Search found 12 matches
Search found 12 matches • Page 1 of 1
Wed Mar 25, 2020 5:04 pm
Replies: 90
Views: 2115
'22 Center Door
Before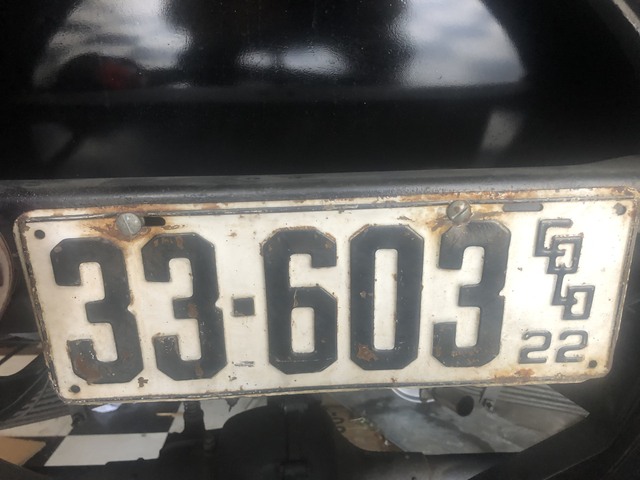 After
Wed Feb 26, 2020 11:00 am
Replies: 3
Views: 153
Thu Feb 13, 2020 1:36 pm
Replies: 10
Views: 668
Cory, I just finished replacing all glass in my '22 center door with safety glass. I used MAC's p/n A19003R for the rear window. The Lang's part is listed as 1923 to 1927. It is probably ok, but the "new" 2 door came out in 1923. The back window is a different shape, not oval like yours. But at 80" ...
Fri Jan 03, 2020 11:17 am
Topic: 1922 coupe window channels
Replies: 7
Views: 428
Galen, I just replaced all the original glass in my '22 center door with safety glass. The issue with the reproduction channels, that I found, was that the new stuff is thicker and better made (I got mine from Snyder's. I'm sure they all sell the same stuff). The channel I took out was just felt. Th...
Fri Nov 08, 2019 1:29 pm
Replies: 2
Views: 375
No one answered my post so I thought I would post how I removed/replaced my windshield. Right or wrong. I used a 2x4 and a hammer. Put the windshield on a heavy, padded, table. Placed the 2x4 on the glass at the bottom of the frame. Tapped the 2x4 against the frame, until the glass started to separa...
Sat Oct 26, 2019 4:56 pm
Replies: 2
Views: 375
I have a 1922 Center Door. I have the new windshield glass, but I am having trouble removing the old glass. I cannot free the glass from the thin channel that is holding on the windshield frame.

Short of braking the glass and taking it out in pieces, anyone have a better method?

Rich
Thu Sep 19, 2019 11:23 am
Topic: Seat Belt Install
Replies: 22
Views: 1366
Allan,
Thanks for your post. I have been thinking about angle iron to the frame setup as a solution. Good to hear you had some success with that setup.

Rich
Wed Sep 18, 2019 11:51 am
Topic: Seat Belt Install
Replies: 22
Views: 1366
Interesting discussion. I will find a way to install the seatbelts. I believe staying in the car is safer than ejecting. There are circumstances where that won't be true, but by enlarge staying put would be better, IMHO. I am also replacing all glass with safety glass. I installed seatbelts in all o...
Tue Sep 17, 2019 5:11 pm
Topic: Seat Belt Install
Replies: 22
Views: 1366
All, New to the "T" world. But I bought a 1922 Center Door and I would like seat belts. I bought a set, then looked at how I was going to install them. Backwards I know. Lots of wood on the floor but not a lot of stout metal to hook up to. I know someone out there has solved this problem. Could anyo...
Thu Sep 12, 2019 11:12 am
Topic: Younger Members
Replies: 21
Views: 2022
All, It wasn't mentioned in this tread so I'll bring up the new "Model T Explorer". In the current issue, July-August, of the Vintage Ford magazine they have an application for the young people, ages 7 to 17 to get involved with the hobby. Their own newsletter, name badge, membership card. Look it u...
Wed Sep 11, 2019 11:14 am
Replies: 6
Views: 966
Great video! I was there last year and it is an amazing show. Nothing else like it. Long way to go, pulling a trailer with my car on it. But worth it. Cannot go every year from Colorado. Going in 2022 with my 1922 Center Door for its 100th birthday.
Thanks for sharing!
RIch
Fri Apr 19, 2019 6:57 pm
Forum: Classifieds - Vehicles
Topic: 22 Center Door
Replies: 7
Views: 5022
Dave,
I didn't look into this car because it was too far away. Then it goes to the UK! Funny. It is what I'm looking for. Would you mind letting me know what it sold for??? (In US dollars lol)
Thanks
Rich in Colorado
Search found 12 matches • Page 1 of 1